What is SharePoint and Why Use It?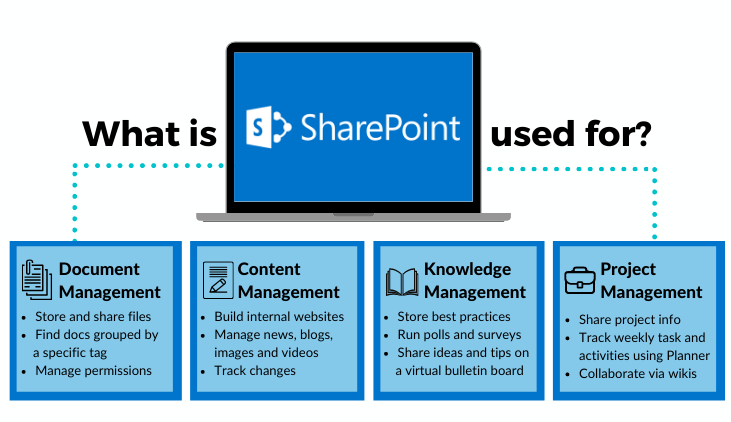 Shared Knowledge Management Difficulties
When organizational information is difficult to obtain and use, it can result in complex workflows, inconsistent business processes, and poor employee performance since employees may rely only on their own expertise.
Our Solution:
We improve your SharePoint and Office 365 solutions to help you manage your material more successfully by concentrating on metadata and content indexing to enable quick knowledge retrieval. We examine and configure your SharePoint wikis and knowledge sites to fit your knowledge management requirements. We also enable cross-employee searches to quickly identify knowledge owners.
When people are hesitant to share their important tacit and explicit information, knowledge silos can form. Several groups of knowledge owners frequently do not collaborate and maintain their unique expertise to themselves.
Our Solution:
We provide knowledge-sharing technologies that allow employees to effortlessly communicate their expertise without putting in a lot of effort or time. Furthermore, we provide motivating aspects that encourage employees to feel appreciated and recognized for their knowledge contributions.
When a person with highly specialized and valued expertise leaves the organization, severe knowledge loss can occur.
Our Solution:
To prevent knowledge loss, we provide capabilities for knowledge externalization and smooth knowledge distribution via the push mode. Corporate training sessions and courses, Communities of Practice (CoP), workshops, expert forums, and blogs are examples of collaborative knowledge transmission approaches.
When a company fails to assess the quality of its knowledge, it can lead to commercial issues and internal disputes.
Our Solution:
To keep corporate knowledge from becoming stagnant, we prioritize solutions for easy knowledge maintenance. We use automated procedures to provide timely knowledge updates and continual inspection of knowledge items based on pre-defined qualities (such as last retrieval, last modification, popularity, etc.).