SharePoint Intranet is a company website built on SharePoint technology that allows employees to collaborate, communicate, and access important company information and resources such as documents, news, and events. It acts as a centralized hub for company-wide communication and boosts productivity by providing a centralized platform for sharing information and resources within the organization.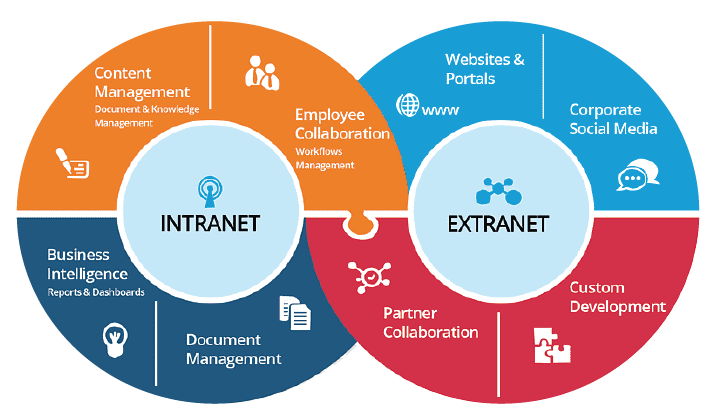 Site Architecture in SharePoint and Microsoft 365

Sharepoint Intranet Benefits
We prioritize employee convenience and needs when developing every aspect of an intranet to ensure user adoption. We guarantee that every aspect of the solution will be in line with your company's business objectives and employee needs.
SharePoint intranets are implemented in accordance with established information security standards and your corporate policies. To ensure the highest level of security for your intranet, we also enable the most recent security controls, assign user permissions, and activate advanced data administration capabilities.
By integrating your intranet with other enterprise systems, we ensure the continuity and integrity of your business processes. Employees can collaborate effectively even if they work in different departments and use different solutions as a result of this.
Employees in today's fast-paced world require the ability to work outside of traditional business hours and from any location. Our mission is to make your intranet flexible, dynamic, and mobile so that it can keep up with the pace of your business and support the productivity of your employees.